Source Xinhua News Agency
Shanghai, Sept. 16 (Xinhua) -- (journalist Zhou Rui) Last November, the first China International Import Expo reached $57.83 billion business within 6 days. In the past 300 days after the closing of the 1
st
CIIE, the continuous "China Passion" and "CIIE promise" are bringing a lot of opportunities to global enterprises, and the global enterprises participating in the 2
nd
CIIE 50 days later are full of confidence.
Pingluo county of Shizuishan city in Ningxia is a small city with a population of 3200 in northwest China. Wang gang, a white-collar officer in Beijing, returned to his hometown for the Spring Festival, he was surprised to find "CIIE Exhibition Brand "Product milk in the supermarket he saw during the 1
st
CIIE 3 months ago.
Sheng Wenhao ,CEO of Theland New Cloud said: "Some China cities and county residents who were far away from purchasing imported goods in the past, currently, they can also enjoy the "CIIE bonus". During this year's "TMall 618" promotion, nearly 80% of Theland 4.0 milk consumers came from tier 3, 4 and 5 cities."
The CIIE Commitments cannot be achieved without a series of inward targeted reforms and timely opening up policies that are multi-faceted, multi-sector and multi-industry. The continuous improvement of the business environment has made foreign investors more willing to invest in China.
Cow milking in New Zealand farm on Monday, and fresh milk is brought onto the table of Chinese consumers on Wednesday. "Farm to table in 72 hours with ashelf life of 15 days of Theland milk has won over a large number of fans in China. Under the joint promotion of Shanghai customs department and Changning district government, the pilot enterprises implemented differentiated and classified management of specific imported products, which greatly accelerated customs clearance.
In the past, the inspection and quarantine of imported dairy products to China needed at least seven to eight days. Sheng Wenhao said that after the reform of trade facilitation, the import volume of fresh milk from Theland expanded from 3,000 bottles per week to 30,000 bottles. Especially after the CIIE, the maximum sales volume reached 80,000 bottles per week, which was 26 times as much as before the trade facilitation and twice as much as before the CIIE. "With the customs of Shanghai convention and exhibition center settling in Changning District, we hope to enjoy more benefits brought by trade facilitation measures in the future, such as bonded pre-warehouses for cross-border e-commerce imported healthy food.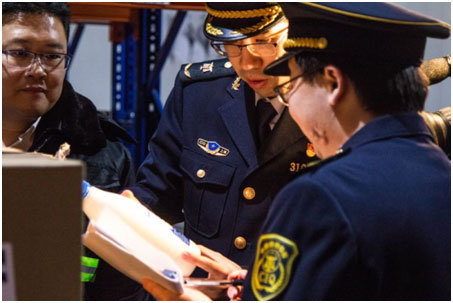 Cows milking in a New Zealand farm on Monday, fresh milk brought to the table of Chinese consumers on Wednesday. The photo shows regulators examine "farm to table in72 hours" Theland fresh milk.
On June 30, several ministries and commissions issued a new list on foreign investment access to further open up the manufacturing and service sectors. On July 10, the executive meeting of the State Council discussed continuing to reduce the overall level of import tariffs and improve the export tax rebate policy. On August 6, Lin-gang Special Area of Shanghai pilot free trade zone was officially established, which will build a special economic zone with more influence and competitiveness in the international market. On August 13, Shanghai announced two new policies, focusing on opening up the service sector and upgrading the regional headquarters of multinational companies.
Successive rounds of opening up policies have accelerated the implementation of "CIIE Commitment", there is an increasing number of "CIIE enterprises" that have chosen to continue to invest in the Chinese market. According to data from January to July, Shanghai set up a new foreign investment projects,which actually achieved foreign investment double-digit growth; In the first half of this year, China's actual foreign investment reached 480 billion RMB, up 7.2% YOY.