In early April, Richard Rennie as a journalist for New Zealand's Farmers Weekly, arrived in China for the first time. Although he was prepared for the speed of China, he was impressed by the "New Retail Speed" displayed by a New Zealand brand named Theland on Alibaba. A bottle of Theland fresh milk could be brought onto the Chinese table within 72 hours.

It was entirely beyond his plan. Richard's trip is supported by the New Zealand Asia Foundation, which helped him to witness the commercial ties between New Zealand and China after China Free Trade Agreement and also feel the New Zealand company development in China. Moreover, whether it was established the new business cases, therefore, Richard spent most of my time in Shanghai, gathered the New Zealand businessman together.

He published 14 articles after returning to New Zealand. He recorded his experiences in China, such as visiting New Zealand Business Association in China, interviewing kiwi-fruit companies Oravida and Zespri. Besides, he also meets David Morris, founder of NZ dairy technology, because he was concerned about dairy products that are the pillar industry of New Zealand.
However, nothing felt more direct than a glass of fresh milk's global journey.
A bottle of milk's new retail
In November 2018, the first China International Import Expo was held in Shanghai. Only one year, a million bottles of fresh milk have been sold from farms in New Zealand to Chinese consumers table in 72 hours. Namely, other imported milk brand can only achieve annual sales of 160,000 bottles.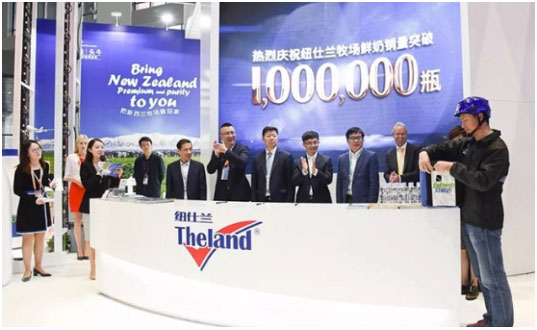 Moreover, Alibaba CEO Daniel Zhang announced his $200 billion import strategy over the next five years, he highlighted the story of Theland -- "it's no longer a dream that milk from a farm in New Zealand can bring onto the Chinese table within three days. "We will realize more from grass to glass and from farm to table through digital and innovative import mode."

Theland gained milk from the North Island farms its NZ associated company Theland Farm Groups owns. In total the operation has 29 farms milking with a total area of 12,300 hectares, accounting for about 1% of New Zealand pastures. Since 2015, Theland New Cloud was established in China. "Theland" brand officially entered the Chinese market and launched natural temperature dairy products in offline supermarket channels.
The turning point occurs when Theland enters Alibaba's Tmall. Over the past four years since its entry into China, Theland has experienced a significant increase in China's imported dairy products, with a compound annual growth rate of 246%.

Interestingly, it took seven or eight days for the fresh milk shipped from New Zealand farms to China,which initially made Theland famous at the CIIE. This is also the average delivery time in the imported milk industry.

In 2017, Theland held a "fresh milk live across the overseas" at Tmall flagship store -- on Tmall, customers can watch how a cup of milk passes through the hands of New Zealand milkers into the milk bucket and is transported from the pasture to Customs, and finally arrives in China by plane. For consumers concerned about food safety, there is no more intuitive experience.

At the time, Theland Marketing Director Yan Zhijun invited 10 KOL to New Zealand. The real "Farm to Table" means provide not only better food but also seasonality, location and farmers. The KOL found on the ranch that each cow had a vibrant meadow of more than six acres, a controlled daily milk supply. Moreover, Theland cows have two-month annual island vacation and maternity leave. It also means that they need to match supply and demand at this point.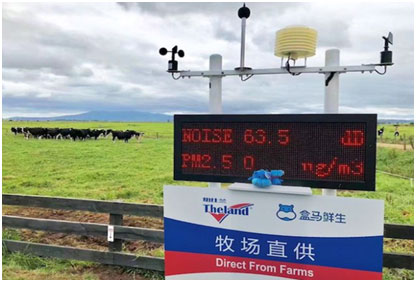 Yan realized that the event had a profound meaning. "Nobody else in the fresh milk market has done this, and trade can achieve through internet and digital." Soon after the event, a customer in the Tmall store left a message: Whether the fresh milk can be made a little fresher?
Yan realized that digitization could be the first time to understand the consumers' most energetic needs - a little faster. Consumer feedback has also given the Theland team a lot of constructive suggestions. Honestly speaking, it takes three days for fresh milk to be shipped from overseas to China, and these products can be delayed to 7-8 days due to their stuck in inspection and quarantine.

"According to procedures and safety guarantees, a large amount of fresh milk will also arrive in China and stay in Customs for at least a week, which lengthened the whole time. Therefore, the shelf life of fresh milk is less than the 15-day shelf life." Yan realized that there was an opportunity for innovation.
After cooperating with Tmall on the "Fresh Milk Across Overseas Live Broadcast", Theland began to discuss various possibilities of importing fresh milk with the Shanghai Municipal Government and promoted the commercial innovation of fresh milk delivery together with Alibaba. Each of Alibaba's 700 million users has the opportunity to drink local fresh milk from the southern hemisphere in 72 hours.
By the end of 2017, Shanghai Customs and Changning District government implemented the "inspection release separation, quick inspection and quick release" mode, allowing enterprises to reach the "Zero Wait" at the earliest. Theland became one of the five Shanghai companies in the pilot program. Before that program, enterprises need to accept inspection at the port. After the implementation of "inspection and release" mode, the inspection of fresh milk is extended to foreign countries and the surface, and pre-inspection and post-supervision are carried out. " It takes just three days from milking in New Zealand to show on the shelf in China.

New Zealand Fresh Milk Custom
Theland has innovatively made the milk that reaches consumers' tables fresher, opening up new directions in the delivery of imported milk. On December 21, 2017, Alibaba also took a stake in Theland, and the new retail entered the cross-border supply chain, Yan said, "Provide a good sports car to the new retail runway.

"No other dairy company in New Zealand has ever done that. That's the fastest I've ever seen." Richard Shared. When he met Yan in Shanghai in early April, he asked curiously about the story of "A bottle of milk's global journey within three days " and was impressed by Theland's innovation. Yan told Richard that is the new retail milk.
Richard had heard of the term "New Retail", but the New Zealander had spent his entire life working with farms and milk. They had no idea that milk could be sold in this way. In a series of articles on his visit to China, the story has made him understand the importance role of mobile apps in Chinese daily life.

Turning point-Contact with Ali 88 VIP
Theland's fresh milk business began to proliferate in the Ali ecosystem.

In the beginning, when Theland fresh milk was first sold into Alibaba's Freshhema, the weekly sales volume was only more than 1,000 bottles, which increased to more than 3,000 bottles/week in the next month, with the following month increased to nearly 10,000 bottles/week. Within almost three months, Freshhema's Theland milk sales increased 8 times, which has become the first imported milk sales of Freshhema.

Theland marketing director Zhijun Yan said the company has secured increased air-freight capacity through East China Airlines and Air NZ as volumes built, to the point the company now supplies 40,000 litres a week, mainly into Shanghai from Auckland. Richard also learned from Yan, "Now the volume is 30,000 bottles per week, the future will develop to 100,000 bottles."

The concentrated outbreak of Theland's demand for fresh milk occurred when Ali announced the 88VIP membership system in August 2018. As a member of 88VIP can enjoy 9.5 percent of the world's 88 brands of quality goods, which was also upgraded to an annual card member including Youku, Hungry, Shrimp, and Taobao tickets. Besides, consumers can also enjoy the benefits of quality products. Theland fresh milk is one of them.

Theland fresh milk is a unique benefit product for 88VIP. It also introduces a cycle subscription model. Moreover, they offer members exclusive discounts for the whole year. After the event launched within 5 hours, 60000 bottles were sold out completely, and the daily sales volume was 200 times the daily sales volume.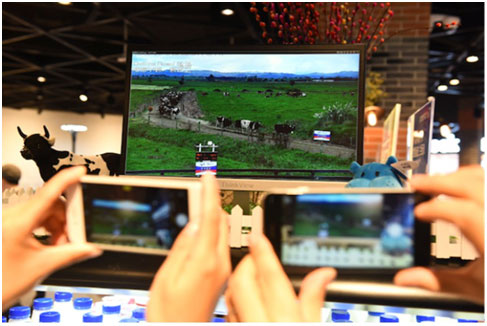 Live Broadcast

The innovative model of periodic milk subscription has not only gained a large number of high-end Ali ecological customers for Theland, but also the ordered production and regular distribution have significantly increased the certainty of product demand. Therefore, the demand and supply of Theland products can be more stable and fast docking, namely, the capacity and transportation capacity can be adjusted immediately.

Some customers previously learned about Theland from 88VIP plan. On Theland's social media, consumer Lynn wrote, "I first met Theland because of Tmall 88 members. The first taste of fresh milk recalled memories of my childhood. Now, Theland become a necessity good in my life."

All 88VIP of Ali is loyalty to some extent. It means that customers will be purchasing again. Accordingly, we have also launched a digital sales model." Yan said. The figure shows that after 88VIP went on sale within two weeks, the fresh milk sales of Theland exceeded 150,000 bottles. However, when Theland first entered the Chinese market, Theland fresh milk only sold 3,000 bottles a week. In Yan's words, "This is tens of times the growth that is a qualitative leap."

Now, Theland sells 30, 000 bottles a week. Not only Freshhema and Tmall sell Theland fresh milk, but also Theland fresh milk has entered a wide range of terminal channels including RT-Mart, Auchan, Bailian and SanJiang through Alibaba's business operating system. New retail has a significant impact on Theland, which can be shown in a high growth rate of fresh milk sales.

According to Customs statistics, China imported 410,000 tons of packaged milk from January to August 2018, including 130,000 tons of packaged milk from New Zealand and 40,000 tons of packaged milk from Theland. "It means that for every three bottles of milk imported from New Zealand, one of them is Theland." Yan said.

This is not a story of merely using big data to solve milk supply and demand. The personal story of collecting Theland's fresh milk on officially social media platform, attracted many consumers to share it with enthusiasm.

Consumer An shared her heart-warming story about her grandmother, who had Alzheimer's disease. Since the grandmother lost her denture and her gums were too shrivelled to fit it, the family considered giving her and her granddaughter fresh milk to enjoy together. As a result, home milk cereal, stewed milk eggs, milk foam cookies have appeared in the family kitchen.

Yan said these customers' feedbacks showed the strong influence of high-quality imported milk in the Chinese market and families. Based on the potential demand, New Zealand is also expanding its range of products, from fresh milk powder,HawkeSpring to Arnold's Cereal.

Richard has returned back to New Zealand, and he is willing to spread the milk story. This is what he witnesses as a typical Chinese story. He is in close contact with Yan's team. Next, Richard plans to go to the Business School of the university in New Zealand. He will share the story of Theland's new retail on Alibaba with them.